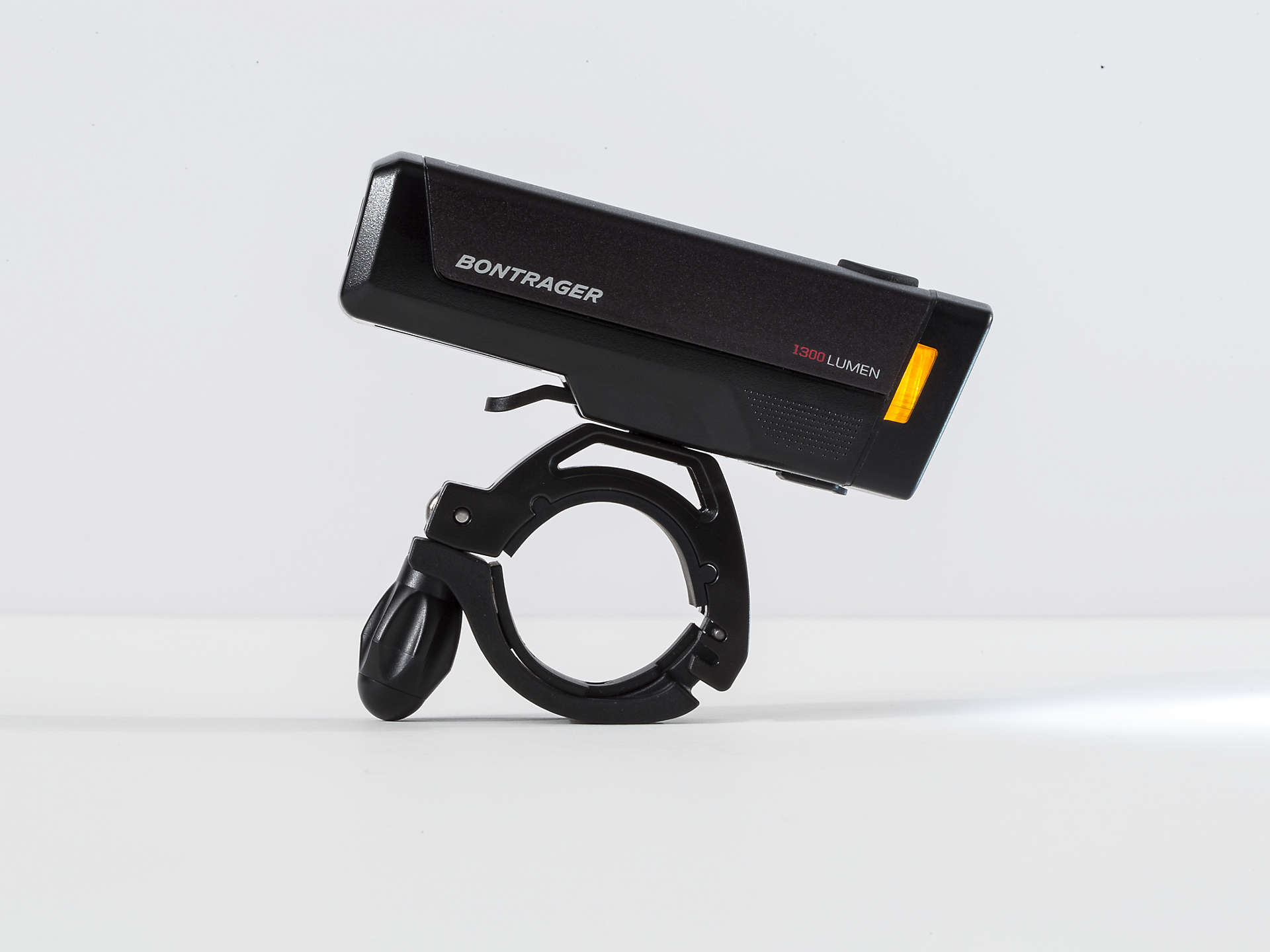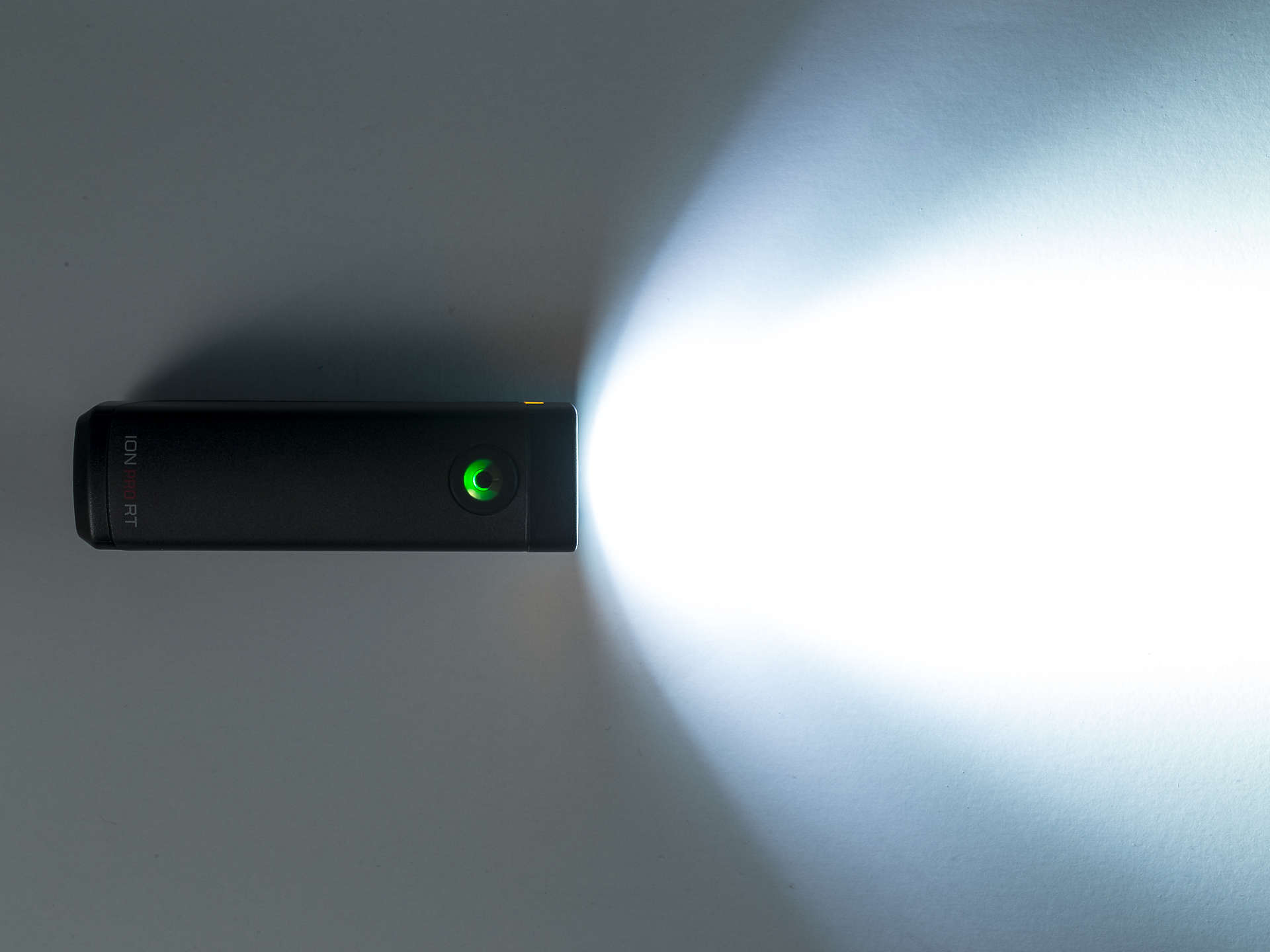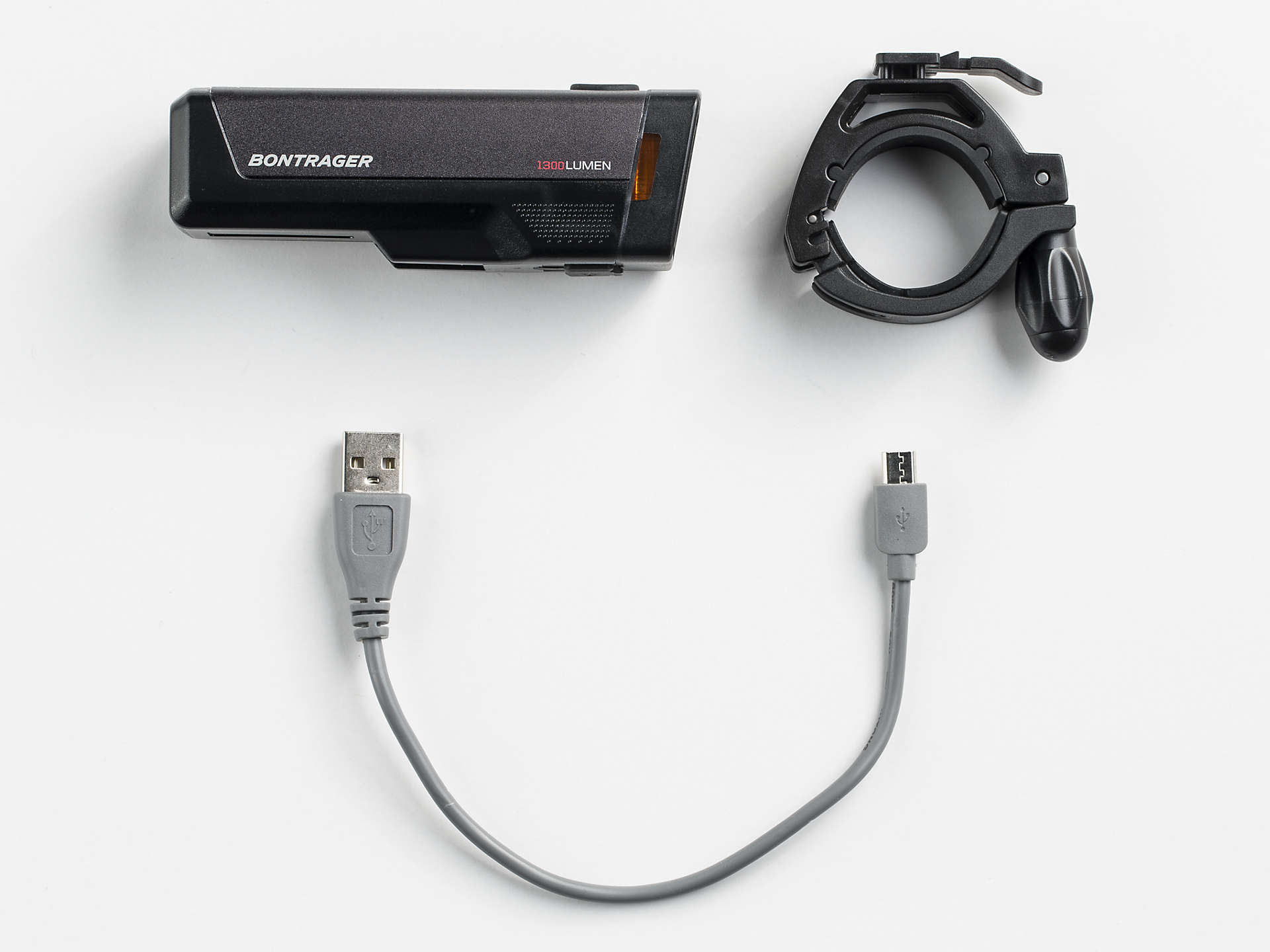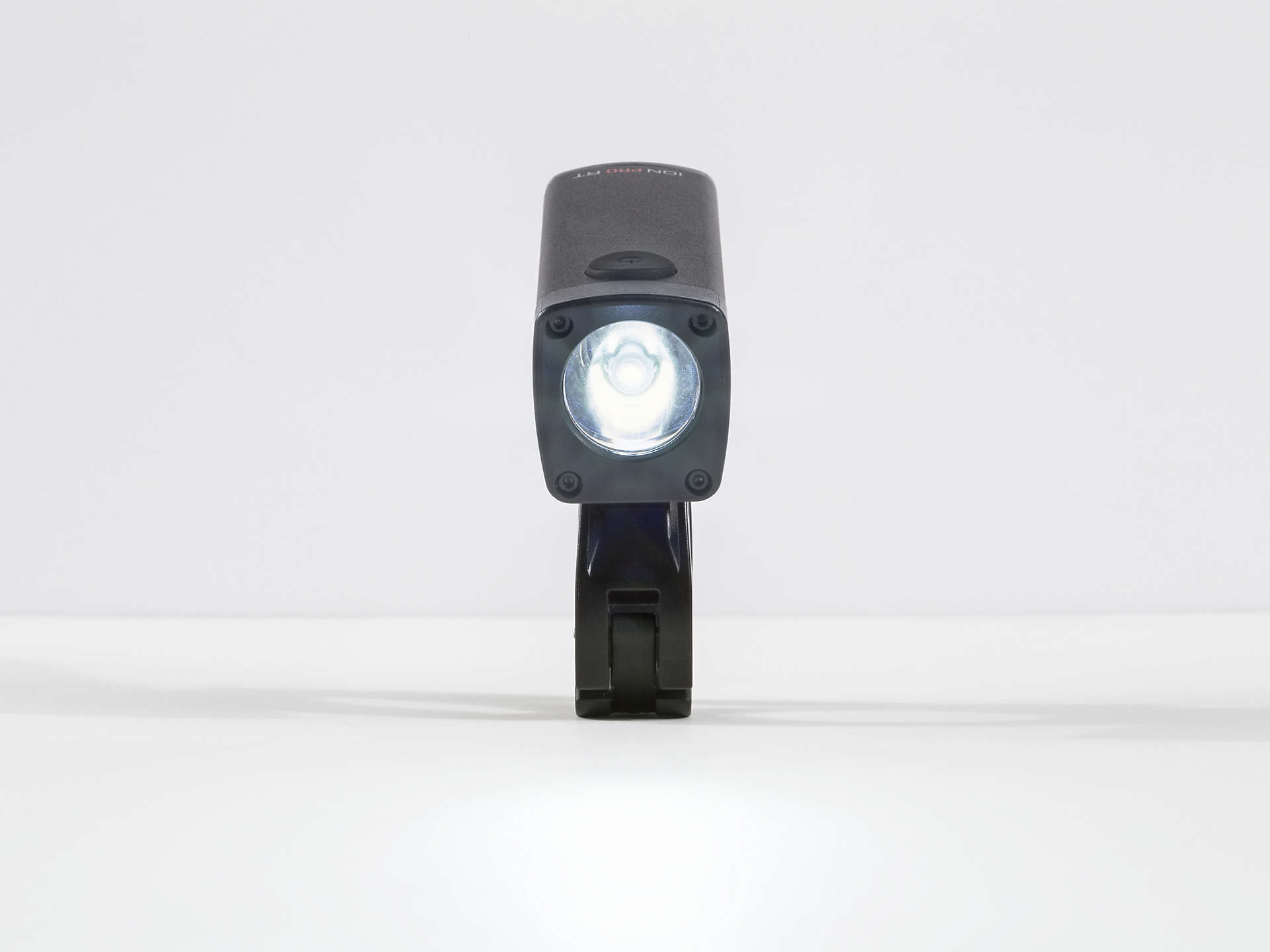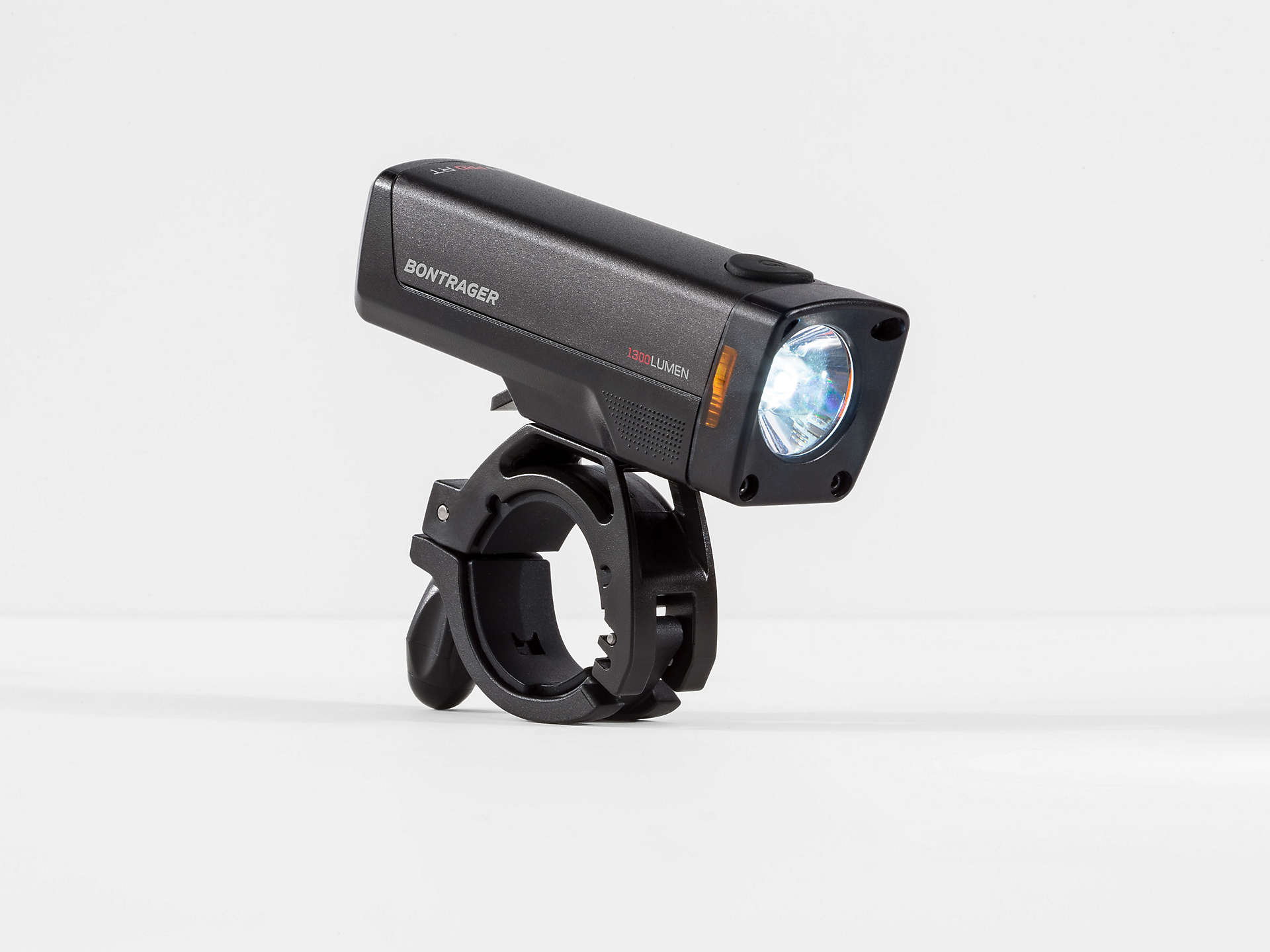 Bontrager Ion Pro RT Front Bike Light
A USB-rechargeable front light with five modes for day and night and enough power to light up the full width of any trail.
Light up any trail
The Ion Pro RT front bike light lets you ride with confidence at all hours of the day. The USB rechargeable light features 5 modes for day and night, and its compact design and adjustable hard mount make it easy to securely attach it to the handlebars of any bike.
Product details
1 - Ion Pro RT provides a powerful beam that lights up the full width of any road or trail
2 - 1300 Lumens via high-power CREE LED
3 - 1300LM-1.5hrs, 800LM-3hrs, 400LM-6hrs, night flash-26hrs, day flash 22hrs
4 - Connect with Garmin® and Bontrager ANT+ devices for always on, battery status, and control
5 - Includes adjustable light mount that fits bars from 25.4-35.0mm
6 - Blendr compatible with helmet mount available
7 - Includes Ion Pro RT light, Adjustable hard mount, and micro USB charging cable
Ion Pro RT
Let go of the hassle and fuss; light up the trail instead. Bontrager's Ion Pro RT makes night rides even easier and more fun.
Double-click
A double-click on switch helps eliminate the possibility of accidental operation and battery depletion while in transport.
Compact and powerful
The compact and simple design of this light is ideal to mount to your helmet or handlebars and lets you get maximum runtime without an external battery, cable, or wires.
Run time for your ride time
You'll get 1.5 hours of runtime with 1300 Lumens in the highest setting and 3 hours of run time with 800 lumens at a lower setting, so you can adjust the output to best meet your ride.
Truth in Lumens
1300 Lumens without any gimmicks, because we'd rather make a great product than market a fast-fleeting Lumen number.
ANT+ and Bluetooth Smart
Connect to Garmin and Bontrager Transmitr devices for always on, battery status, and wireless control.
Lumens that last
Ion Pro RT provides consistent brightness throughout its runtime to provide meaningful power that lasts. It literally outshines the competition.
Daytime running lights
Research suggests that riding with a daytime-visible flashing light is the single best product solution for making a cyclist more noticeable.
Not all lights are created equal
The distinctive flash, focus, and range of Bontrager's Daytime Running Lights are designed to cut through distractions and capture a driver's attention from a meaningful distance.
Blendr integration
Blendr compatibility makes clean installation on any bike a breeze.
Specifications
Rechargeable - Yes
Battery - 4800Li-Ion
Weight - 192g